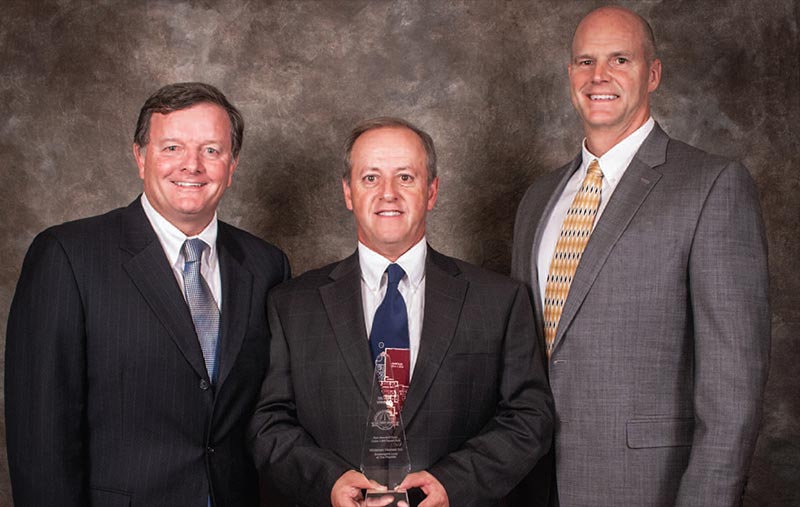 Richard "Rich" Whittington
Founder and President
His background in computers, customer service, corporate operations, and real estate development, combined with his entrepreneurial spirit, provided all the tools necessary to launch and control a high growth firm. He's committed to the company and its people providing the utmost in integrity and operating under the highest ethical standards. His belief in continuing education for all employees keeps Whitman Homes on the leading edge of technology, operational systems, and the latest products and services in the home-building industry.
As company president, Rich is responsible for providing the leadership and vision for the company. And although Whitman Homes has aggressive goals, he realizes that desired growth will only be achieved through meeting and exceeding today's client's expectations. He's dedicated to earning and re-earning the goodwill, trust and confidence of each and every client.
In addition to producing, implementing, and monitoring the company's business plans, he consistently reviews projects, market conditions, and economic data to sustain the proper levels of inventory and profitability to meet the present and future demands of a thriving business.
Rich prides himself on the personnel he's recruited who comprise the Whitman Homes professional team, as well as the suppliers and sub-contractors who have continued to provide the consistent quality and products that makes up a "Whitman Home". He believes the level of service provided by Whitman Homes is unmatched by any other homebuilder producing less than 70 homes per year in this region.
Timothy "Tim" Porter
Vice President/Principal
Before becoming a partner in Whitman Homes, Tim was Director of Sales and Marketing for a large home building firm, a sales engineer for a local custom home building company and a project coordinator for a diversified commercial and residential real estate developer. He has been in the real estate development and construction industry for over 29 years.
Tim manages Whitman Homes land development and lot inventory ensuring the company has quality home sites for the home building company. He oversees all marketing and sales programs for all of Whitman Homes communities and neighborhoods. Tim also oversees all of the companies corporate marketing, public relations, all sales contracts, website management, social media, neighborhood communities, home designs, model home programs, sales directors, mortgage programs and broker relations. He assists in day to day operations including budgeting, construction costs, development monitoring, pricing, estimating, and vendor programs.
He has a Bachelor of Arts Degree in Communications and Business Management from the University of Massachusetts in Amherst. Tim is an active member of the National Association of Home Builders, the Builders and Remodelers Association of Greater Boston's Sales and Marketing Council; has been made a member of the Board of Directors of the Builders and Remodelers Association of Greater Boston for 2000 to 2003, 2017, named BRAGB's Builder of the Year in 2002. He is a Mass. licensed Real Estate Broker, a member of the South Shore Realtors Association, a member of National Association of Realtors, an "Evercore ISI" survey member for National Building Industry, a Member of the Multiple Listings Secure (MLS) and a Licensed Notary Public.
Bartholomew "Bart" O'Brien
Vice President of Design and Construction/Principal
Bart has a unique perspective of the importance of good design and the relationship between the company and the homeowner.
As a registered architect it is very important to design the best possible residence for each client's needs and lifestyle. Understanding that all clients have a budget, Bart creates interest in the spaces and details which make a "Whitman Home" unique. Each home is designed to take advantage of the site selected for that home. The company has received numerous design awards as a result of Bart's efforts. Bart is also partner in Whitman Homes.
Bart has been designing custom homes for over 25 years and has an excellent background in construction. Having spent a lifetime in home building, he began his career as a carpenter in Ireland where his father and uncle built many custom homes. He came to the United States in 1982 to study architecture and for the past 27 years has been involved in both residential and commercial construction.
Many builders in the area can only offer their clients the services of a "draftsman." Whitman Homes is proud to have a "licensed architect" as an integral part of the building team. Bart has a Bachelor of Architecture Degree from Wentworth Institute of Technology and holds a license of architecture (A.I.A.) from the State of Massachusetts as well as a Massachusetts Construction Supervisor's License.
Our Team
Whitman Homes has a team of 18 professionals dedicated to making the home building process an enjoyable one for its clients. Along with many talented subcontractors, vendors, and consultants, our team and their devotion assures that we stay ahead in the home building and development industry.
Our dedicated team provides services for design, construction supervision and sales management to all of our clients.